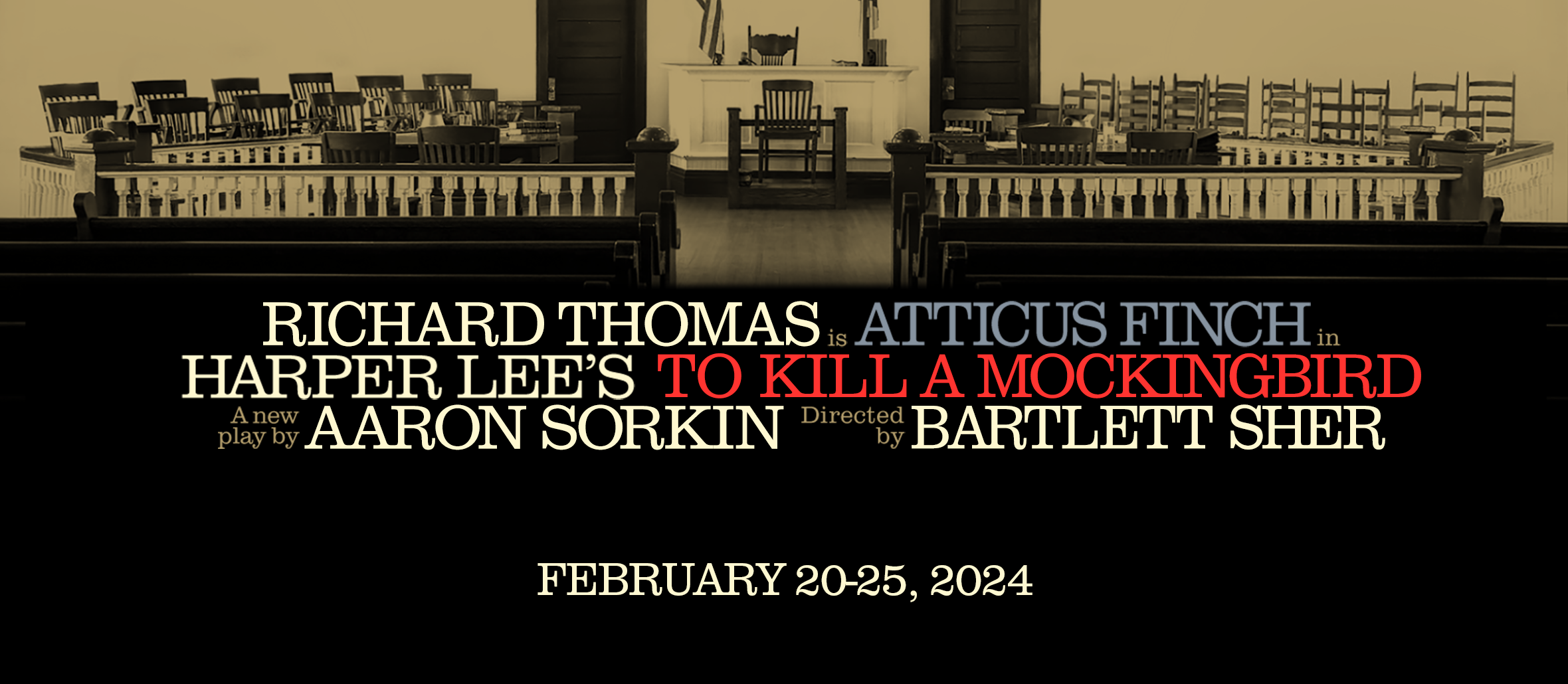 Oct

16

, 2023
TO KILL A MOCKINGBIRD
FOR RELEASE: Monday, October 16, 2024
Press Contact:
Peg Welty, pwelty@bbmannpah.com, 239-489-3033 x 3102
Special video message from Richard Thomas: download HERE or view/share HERE
Download production images HERE
EMMY AWARD® WINNER RICHARD THOMAS WILL STAR AS ATTICUS FINCH IN FORT MYERS' ENGAGEMENT OF
FIRST NATIONAL TOUR OF CRITICALLY ACCLAIMED,
RECORD-BREAKING PRODUCTION OF
HARPER LEE'S
"TO KILL A MOCKINGBIRD"
A NEW PLAY BY AARON SORKIN
BASED ON HARPER LEE'S CLASSIC NOVEL
PLAYING BARBARA B. MANN PERFORMING ARTS HALL AT FSW MARCH 20-25, 2024. TICKETS GO ON SALE FRIDAY, OCTOBER 20.
Emmy Award®-winning actor Richard Thomas is confirmed to star as Atticus Finch for the complete third touring season of the First National Tour of the history-making production of To Kill a Mockingbird, including the Fort Myers' engagement at Barbara B. Mann Performing Arts Hall at FSW. Academy Award® winner Aaron Sorkin's new play, directed by Tony Award® winner Bartlett Sher and based on Harper Lee's classic novel, is currently on a multi-year national tour across North America. Tickets will go on sale Friday, October 20 at 10AM and can be purchased online at www.bbmannpah.com, call 239-481-4849 or at the Box Office which is temporarily located at Suncoast Credit Union Arena at FSW. Harper Lee's To Kill A Mockingbird is part of the Fifth Third Bank 23-24 Broadway Series.
Richard Thomas as Atticus Finch has been embraced by critics and audiences alike. His performance has been called "Easily the most powerful work I've seen from Richard Thomas" (BWW Charlotte), "A memorable performance rarely seen in a touring Broadway production" (Curtain Up Phoenix), and "Sheer perfection - this role was made to be played by Thomas" (Around the Town Chicago). The Buffalo News proclaims "Both modestly human and divinely heroic. All rise for Richard Thomas," and the Dallas Voice declares "Richard Thomas as Atticus Finch is at the height of his career." Complete casting will be announced later.
Since its tour launch in March 2022, the First National Tour of To Kill a Mockingbird has set a record as the highest-grossing play ever to tour North America. It has played more than 500 performances in 44 cities, seen by more than 1 million theatergoers (1,149,658 as of August 27, 2023) and hailed as "A must-see" (Northwest Herald, Chicago), "The most powerful telling of this story you'll ever experience" (St. Paul Pioneer-Press) and "Amazing – a perfect 10!" (KOA News Radio, Denver).
To Kill a Mockingbird holds the record as the highest-grossing American play in Broadway history. It began performances on November 1, 2018, at the Shubert Theatre and played to sold-out houses until the Broadway shutdown in March 2020. On February 26, 2020, To Kill a Mockingbird became the first-ever Broadway play to perform at New York's Madison Square Garden, in front of approximately 18,000 New York City public school students, also marking the largest attendance at a single performance of a play ever in world theater. The production resumed performances on October 5, 2021 and concluded its run at the Shubert Theatre on January 16, 2022. On May 20, 2023, To Kill a Mockingbird concluded its run on London's West End, playing for more than a year to packed houses at the Gielgud Theatre.
Set in Alabama in 1934, Harper Lee's enduring story of racial injustice and childhood innocence centers on one of the most venerated characters in American literature, small-town lawyer Atticus Finch. The cast of characters includes Atticus's daughter Scout, her brother Jem, their housekeeper and caretaker, Calpurnia, their visiting friend Dill, and a mysterious neighbor, the reclusive Arthur "Boo" Radley. The other indelible residents of Maycomb, Alabama, are Bob Ewell, Tom Robinson, prosecutor Horace Gilmer, Judge Taylor and Mayella Ewell.
To Kill a Mockingbird is designed by Miriam Buether, with costumes by Ann Roth, lighting by Jennifer Tipton, sound by Scott Lehrer and an original score by Adam Guettel. Musical direction is by Kimberly Grigsby, hair & wig design by Campbell Young Associates, casting by The Telsey Office, and design adaptation and supervision by Edward Pierce. The national tour is produced by Barry Diller.
Follow To Kill a Mockingbird
Facebook - https://www.facebook.com/tokillamockingbirdbway/
Instagram - https://www.instagram.com/mockingbirdbway/
Twitter - https://twitter.com/mockingbirdbway
# # #
PRAISE FOR RICHARD THOMAS AS ATTICUS FINCH
"Richard Thomas raises To Kill a Mockingbird to new heights. Thomas is a force to be reckoned with." - The Suffolk Journal
"Richard Thomas is true to every emotion, from his tender moments with Scout and Dill to his carefully planned explosive moments in the courtroom, to his tearful closing arguments." - Cleveland Jewish News
"Richard Thomas is astounding in the role of Atticus Finch" – Austin Chronicle
"Richard Thomas anchors the show with a complex performance that is by turns thoughtful, impassioned, deeply sensitive and prickly." - Daily Herald, Chicago
"The lynchpin in this production is Thomas - a perfect fit for Atticus. He drolly dispenses the lawyer's one-liners and fatherly wisdom as if he stepped out of the novel on to the stage." – BroadwayWorld Columbus
"Richard Thomas is remarkable. Wondrously paced and thrillingly theatrical" - Houston Press
"Richard Thomas is unmistakably perfect for the role here. Tender when he needs to be, and staunch and reticent in moments of pure triumph." - BroadwayWorld Tampa
"Richard Thomas is pitch perfect as Atticus. When he ends his closing argument, his strangled plea touches the soul." - Orlando Sentinel
PRAISE FOR THE FIRST NATIONAL TOUR OF TO KILL A MOCKINGBIRD
"Soul-nourishing, resonant, not-to-miss theater. Go." – Dallas Weekly
"To experience this level of emotional investment by everyone concerned is worth the price of admission alone." – Austin Chronicle
"The cast delivers in a way that's hard to wrap your brain around. There isn't a hint of weariness, not an iota of complacency. No one is phoning it in. No one. Not even the ensemble players relegated to the courtroom spectator gallery. Clearly, this is a mission for the actors." - South Florida Sun Sentinel
"This is theater that demands to be seen and heard and felt by every American." - Orlando Sentinel
"It amuses you, punches you in your face, moves you, gives you hope and keeps you in rapt attention throughout." - League of Cincinnati Theaters
"Bartlett Sher's production feels like an event. You'll likely be moved to tears in surprising places and the whole cast, really, imbues the night with a sense of wrestling with major American questions." - Chicago Tribune
"If you are looking for pure theatrical craft, you can't do better than what's on stage." - Chicago Sun-Times
BIOGRAPHY
RICHARD THOMAS (Atticus Finch) (he/him). Broadway/Off-Broadway: The Little Foxes (Tony nom.), You Can't Take It with You, Race, Democracy, Incident at Vichy, The Stendhal Syndrome (Lucille Lortel Award), A Naked Girl on the Appian Way, An Enemy of the People, Tiny Alice, The Front Page, The Fifth of July, innumerable Shakespeare productions, and his professional debut at 7 years old in Sunrise at Campobello on Broadway. National tours: The Humans (Elliot Norton Award) and Twelve Angry Men. Thomas is an Emmy Award-winning actor for his performance in the iconic series The Waltons. Film: Last Summer; Red Sky at Morning; September 30, 1955; Wonder Boys; Taking Woodstock; The Unforgivable. TV: The Americans, Billions, Tell Me Your Secrets and the Netflix series Ozark.
Special video message from Richard Thomas: download HERE or view/share HERE
Download production images HERE
# # #
Performance Dates / Times: Tuesday, March 20 – 7:30PM*
Wednesday, March 21 – 7:30PM*
Thursday, March 22 – 7:30PM*
Friday, March 23 – 8:00PM*
Saturday, March 24 – 2:00PM* & 8:00PM*
ASL Performance – Saturday, March 24 – 2:00PM*
Sunday, March 25 – 1:00PM* & 6:30PM*
Ticket Prices:Starting at $51*
*All shows, dates, times and ticket prices are subject to change. Prices do not include processing fees and sales tax.