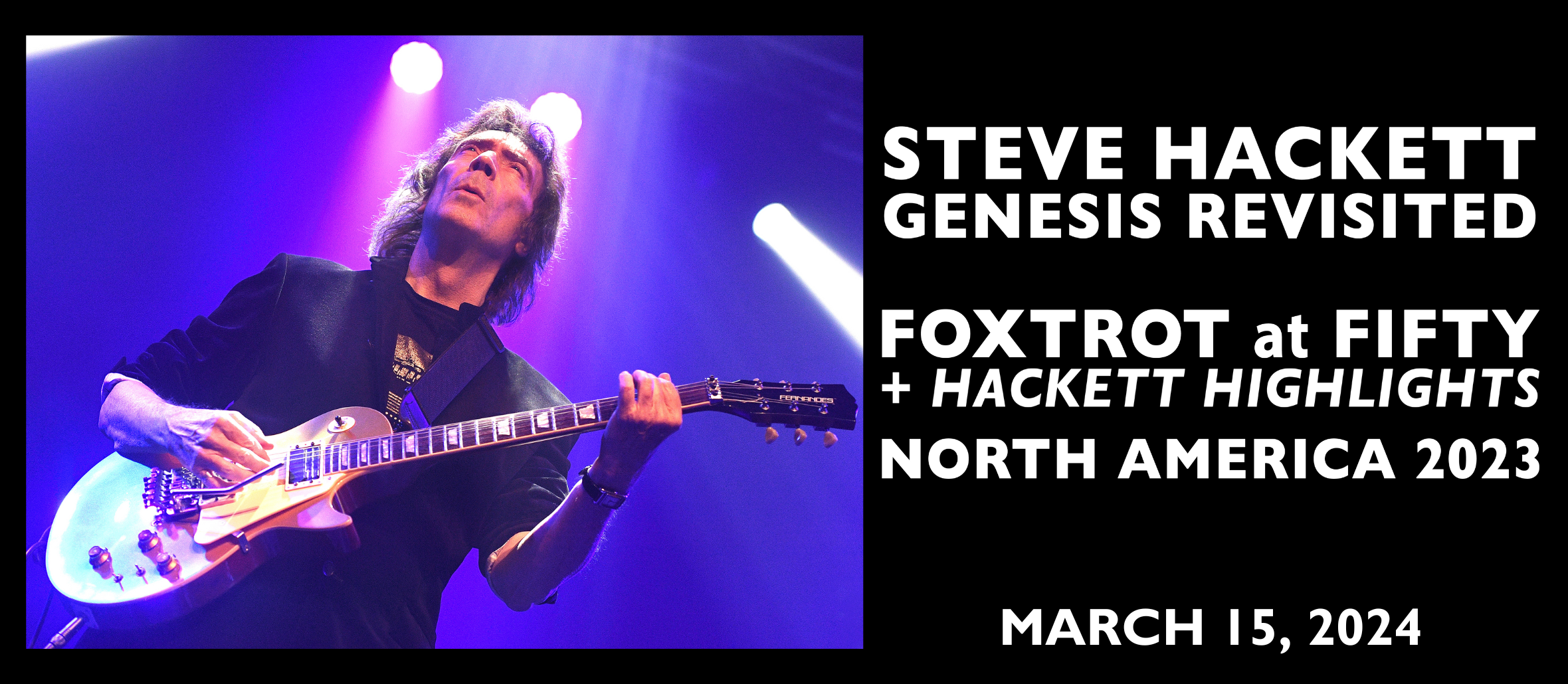 Sep

19

, 2023
STEVE HACKETT GENESIS REVISITED – FOXTROT AT FIFTY + HACKETT HIGHTLIGHTS
STEVE HACKETT
GENESIS REVISITED – FOXTROT AT FIFTY
+ HACKETT HIGHTLIGHTS
FRIDAY, MARCH 15, 2024
TICKETS ON SALE FRIDAY, SEPTEMBER 22
(Fort Myers, FL) – Steve Hackett Genesis Revisited – Foxtrot at Fifty + Hackett Highlights to perform at Barbara B. Mann Performing Arts Hall at FSW on Friday, March 15, 2024 at 8PM. Tickets go on sale Friday, September 22 at 10AM online at www.bbmannpah.com, call 239-481-4849 or at the Box Office which is temporarily located at Suncoast Credit Union Arena at FSW.
Hot on the heels of his most successful solo tour ever, Steve Hackett announced his Steve Hackett Genesis Revisited - Foxtrot at Fifty + Hackett Highlights tour in 2022. The tour marks the 50th anniversary of the legendary Genesis album Foxtrot which, in 1972, was pivotal in establishing the band as a major force in British rock.
Guitarist Steve Hackett joined Genesis in 1971, making his band debut on the Nursery Cryme album which enjoyed a greater commercial success in Europe than the UK. After extensive touring, the band were encouraged, by audience reactions, to further experiment with ever longer compositions and develop their ability to incorporate strong narratives. This, in turn, allowed frontman Peter Gabriel more opportunity to indulge in the theatrics which helped to raise the band's profile.
Now, for 2023, Steve brings Foxtrot at Fifty to North America for a string of eagerly awaited dates following the huge selling UK 2022 tour. "I think Foxtrot was a terrific achievement for Genesis at that time," says Steve Hackett. "I think there is not one weak track on the album, they all have their strong points and I'm really looking forward to doing the whole album live." For more information; visit: http://www.hackettsongs.com/.
-30-
Performance Date / Time: Friday, March 15, 2024 – 8PM*
Ticket Prices: $79.50*, $69.50*, $59.50*, $49.50*, $39.50*
*All shows, dates, times and ticket prices are subject to change. Prices do not include processing fees and sales tax.