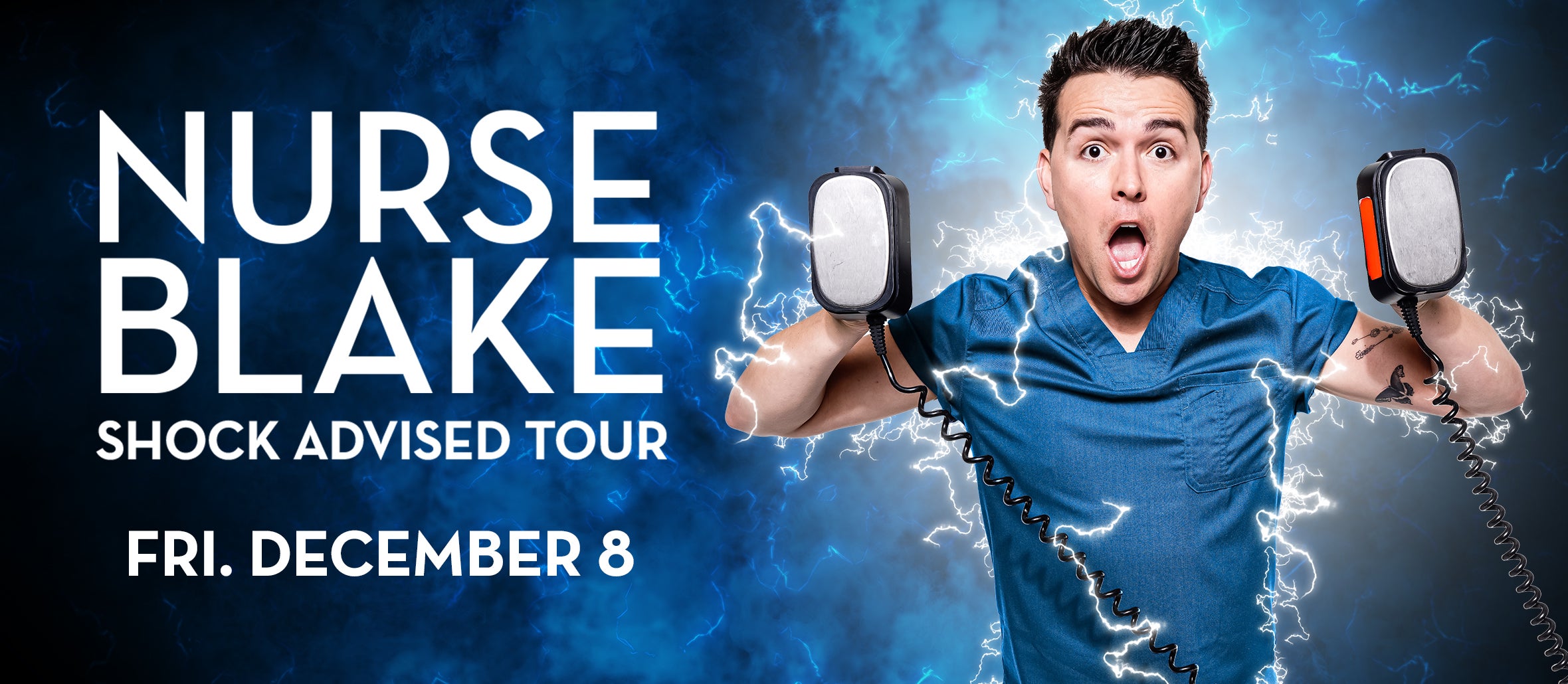 Feb

24

, 2023
NURSE BLAKE: SHOCK ADVISORY TOUR
NURSE BLAKE ANNOUNCES NEW "SHOCK ADVISED COMEDY TOUR"
MASSIVE 100 CITY NORTH AMERICAN TOUR SET FOR
JULY-DECEMBER 2023
TICKETS ON SALE FRIDAY, MARCH 3 AT 12PM LOCAL
FORT MYERS DATE: FRIDAY, DECEMBER 8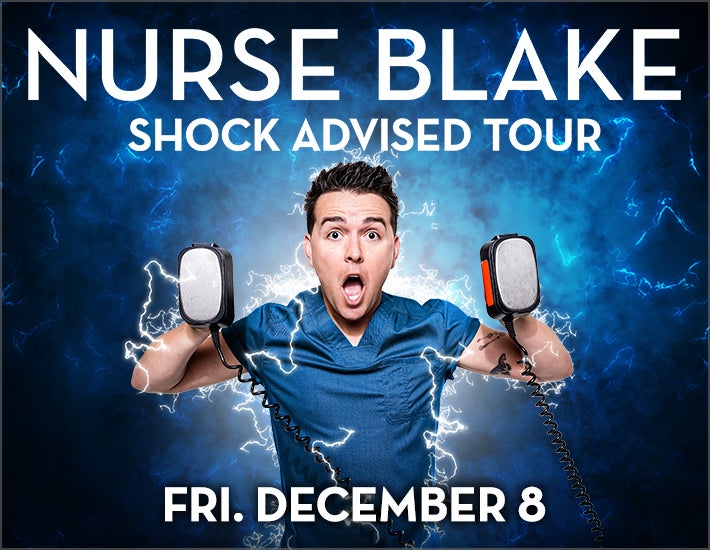 TICKETS FOR THE DECEMBER 8 SHOW AT
BARBARA B. MANN PERFORMING ARTS HALL AT FSW
GO ON SALE FRIDAY, MARCH 3 AT 12 NOON
Internationally touring comedian, nurse, and viral video star NURSE BLAKE announces his massive 100 city Shock Advised Comedy Tour. A follow up to his sold out 2022 PTO Comedy Tour, Nurse Blake kicks off his months-long 2023 Shock Advised Comedy Tour in Anchorage, Alaska, on July 25 and winds his way across North America hitting cities in the U.S. and Canada before wrapping the tour in Honolulu, Hawaii, in late December.
Tickets for the December 8 show at Barbara B. Mann Performing Arts Hall at FSW go on sale Friday, March 3 at 12PM online at www.bbmannpah.com, call (239) 481-4849 or in person at the Box Office.
Hailed as a "genuine phenomenon" by The New York Times, Blake Lynch, aka @NurseBlake, worked in trauma centers around the country before his career in comedy. As a way to cope with stress with his nursing job, Blake started posting original comedy videos aimed at his profession. His lighthearted videos connected with nurses, nursing students, and healthcare workers around the world gaining Nurse Blake 3.5M followers on social media and over 300M views. But it's not only nursing professionals who delight in Nurse Blake's comedy, it is for everyone. Fans worldwide know Nurse Blake from his viral videos and sold-out tours featuring live skits, videos, and interactive stories drawn from his real-life, and this year he will be bringing a new hour and promises next level fun on his Shock Advised Comedy Tour!
"I'm so excited to hit the road again this year and meet my amazing community IRL," said Nurse Blake. "The 2022 PTO tour was my biggest tour to date and I know this year will be even better. The room will be so electric, shock is advised!"
Get tickets before they go on sale to the general public by registering for the artist presale at nurseblake.com. Artist presale starts Wednesday, March 1 at 9am PST.
About Nurse Blake:
Blake Lynch, aka Nurse Blake is a nurse, creator, internationally touring comedian, healthcare advocate, and keynote speaker. Earning viral video status via his light takes on his experience as a nurse, he now takes his comedy to stages around the world bringing nurses together through his humor and inspiration. Nurse Blake's 2022 PTO Comedy Tour began as a 14 show run and grew to 55 shows due to demand. He is the creator of NurseCon at Sea, one of the largest and most popular nursing conferences, and the NurseCon App which provides the free continuing nursing education courses. Nurse Blake is also the author of the best-selling children's book "I Want To Be A Nurse When I Grow Up" available online and at bookstores everywhere.
More info at nurseblake.com
VIDEO: Best of Nurse Blake TikToks https://www.youtube.com/watch?v=q1GsNAYvBGw
YouTube: https://www.youtube.com/@NurseBlake