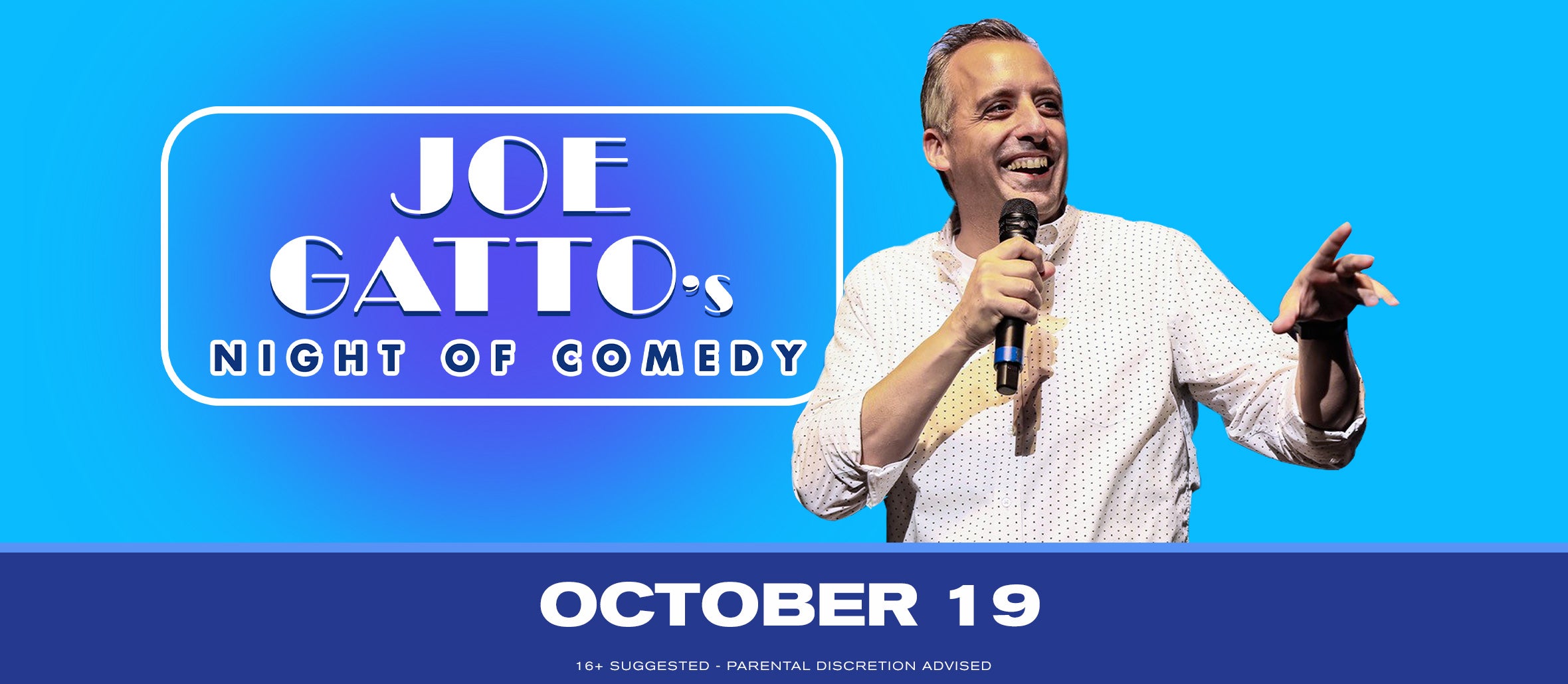 FOR IMMEDIATE RELEASE
JOE GATTO HAS ANNOUNCED THE SECOND ROUND OF 2023 DATES, EXTENDING HIS CURRENT 'NIGHT OF COMEDY' TOUR
THE COMEDIAN WILL BRING THE SHOW TO BARBARA B. MANN PERFORMING ARTS HALL AT FSW ON OCTOBER 19, 2023
TICKETS GO ON SALE FRIDAY, MAY 5, 2023 AT 10 A.M. LOCAL
Fort Myers, FL (May 2, 2023) – Joe Gatto has announced the second round of dates for his ongoing 2023 Joe Gatto's Night of Comedy tour. The comedian will be bringing his tour to Barbara B. Mann Performing Arts Hall at FSW on Thursday, October 19, 2023 at 7PM.
Gatto is one of the founding members of The Tenderloins Comedy Troupe who has toured with a live comedy show to sold-out crowds across the world, including legendary arenas, such as Madison Square Garden in New York and the O2 Arena in London. Joe is a co-host of the "Two Cool Moms" Podcast and has also appeared on hit podcasts including This Past Weekend with Theo Von, What A Joke with Papa and Fortune and Life is Short with Justin Long.
Tickets go on sale Friday, May. 5, 2023 at 10AM and can be purchased online at www.bbmannpah.com, call 2390481-4849 or in person at the Box Office.
JOE GATTO'S NIGHT OF COMEDY TOUR
sept. 8, 2023 Milwaukee, WI Pabst Theater
Sept. 14, 2023 North Charleston, SC North Charleston PAC
Sept. 15, 2023 Tysons, VA Capital One Hall
Sept. 16, 2023 Charlotte, NC Ovens Auditorium
Sept. 17, 2023 Wilmington, NC Wilson Center
Sept. 28, 2023 San Francisco, CA Palace of Fine Arts Theatre
Oct. 1, 2023 Sacramento, CA Crest Theatre
Oct. 5, 2023 Syracuse, NY The Oncenter Crouse Hinds Theater
Oct. 6, 2023 Munhall, PA Carnegie of Homestead Music Hall
Oct. 19, 2023 Fort Myers, FL Barbara B. Mann Performing Arts Hall
Oct. 20, 2023 Melbourne, FL King Center for the Performing Arts
Oct. 21, 2023 Pensacola, FL Saenger Theatre
Oct, 22 2023 Huntsville, AL Von Braun Center
Oct. 26, 2023 Youngstown, OH Edward W. Powers Auditorium
Oct. 29, 2023 Erie, PA Warner Theatre
Nov. 30, 2023 Rochester, NY Kodak Center
Dec. 1, 2023 Ithaca, NY State Theatre of Ithaca
Dec. 3, 2023 Poughkeepsie, NY MJN Convention Center
Dec. 7, 2023 Wichita, KS Orpheum Theatre
Dec. 14, 2023 Seattle, WA Moore Theatre
Dec. 15, 2023 Portland, OR Arlene Schnitzer Concert Hall
Dec. 17 2023 Buffalo, NY Kleinhans Music Hall
Dec. 28 2023 New Haven, CT College Street Music Hall
Dec. 29 2023 Providence, RI The VETS
Dec, 30 2023 Hartford, CT William H. Mortensen Hall
###