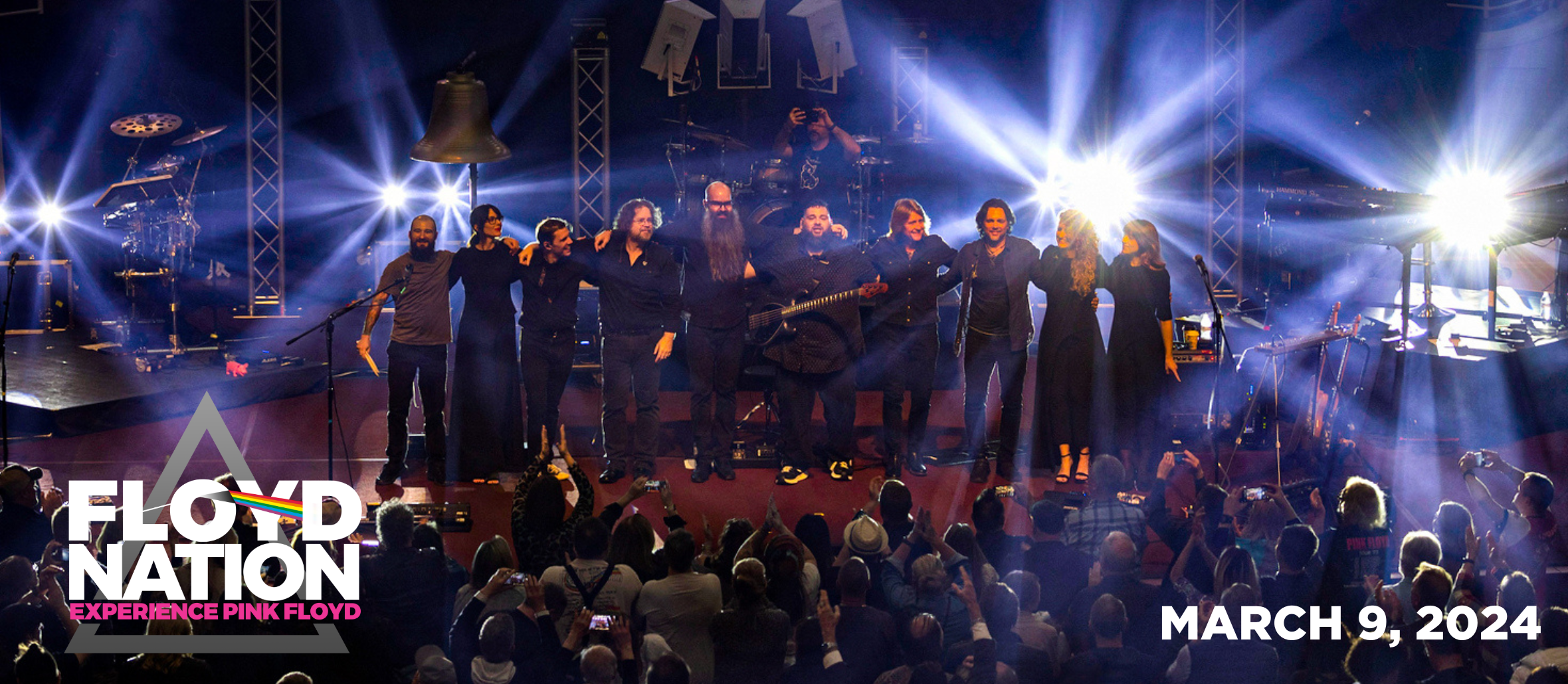 FLOYD NATION
EXPERIENCE PINK FLOYD
MARCH 9, 2024
TICKETS ON SALE FRIDAY, NOVEMBER 10
(Monday, November6, 2023) Floyd Nation: Experience Pink Floyd to perform at Barbar B. Mann Performing Arts Hall at FSW on Saturday, March 9, 2024 at 8PM. Tickets will go on sale Friday, November 10 at 10AM and can be purchased online at www.bbmannpah.com, call 239-481-4849 or in person at the Box Office.
Attending a Floyd Nation concert is so much more than listening to live music and watching a light show. This group delivers an authentic experience connecting them to their fans on a deep and soulful level. Some call it theater, others call it brilliant, and most say if you close your eyes you'll swear you're listening to Pink Floyd themselves.
Composed of a group of US-based musicians who are true fans of the music, Floyd Nation strives to carefully re-create the music, and more importantly the "feel" of Pink Floyd. They then deliver it with an impactful and highly personal experience.
Their concerts span a vast collection of albums such as The Wall, Dark Side of the Moon, Animals, Wish You Were Here, Meddle and The Division Bell.
Floyd Nation embodies the art, legacy and spirit of Pink Floyd that conveys a deep respect for the music created by one of the most awe-inspiring bands to ever take the world stage.
When you attend one of Floyd Nation's live performances you'll be immersed in sound, lights, and lasers. You'll quickly develop an emotional connection to the group as they take you on an epic journey, bringing back your best memories of the greatest music ever created.
For more information visit: www.floydnation.live
"If you are a fan of Pink Floyd like me, you MUST experience Floyd Nation."
- Jeff Seitz, Production Manager for Stewart Copeland of The Police
"By far the most accurate reproduction of Pink Floyd since Pink Floyd themselves. Amazing sound, amazing lights, and phenomenal laser show."
- Erik Rubietta
-30-
Approved Photos:
Floyd Nation Approved Photos.zip
Performance Date / Time: Saturday, March 9, 2024 – 8PM*
Ticket Prices: Starting at $34.50*