June

24

, 2019
We've Only Just Begun: Carpenters Remembered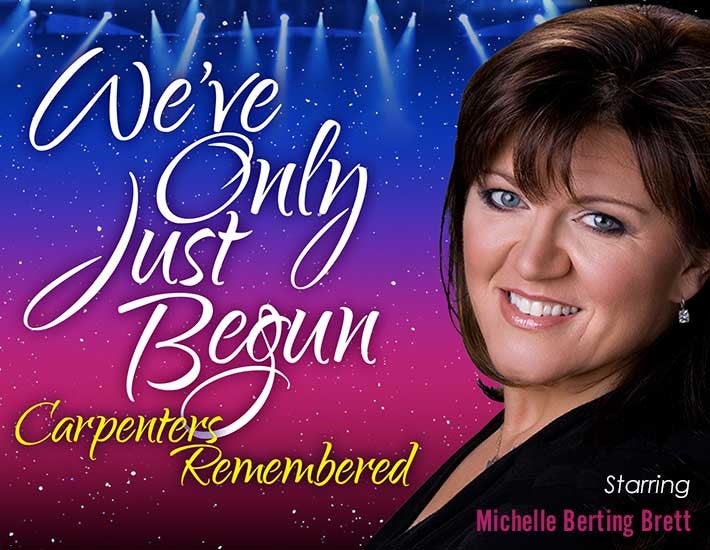 JANUARY 7
TICKETS ON SALE FRIDAY, JUNE 28
We've Only Just Begun: Carpenters Remembered, Starring Michelle Berting Brett will perform at Barbara B. Mann Performing Arts Hall at FSW on Tuesday, January 7 at 7:30PM. Tickets will go on sale Friday, June 28 at 10AM at the Box Office, online at www.bbmannpah.com or call (239) 481-4849.
Long ago and oh so far away . . . the world fell in love with the Carpenters and their era-defining repertoire of songs. The dynamic combination of Karen's voice and Richard's compositions and arrangements created Grammy winning magic and won them a worldwide legion of loyal fans. The Carpenters sold over a hundred million records in just over a decade and still hold the record for most consecutive top-ten singles.
We've Only Just Begun: Carpenters Remembered is the definitive concert show celebrating the music of one of the most successful recording acts of all time. Accomplished vocalist Michelle Berting Brett takes center stage accompanied by her band of Nashville musicians directed by Harry Sharpe. The show re-creates the Carpenters' arrangements and sound and Michelle shares stories culled from extensive research and interviews with those who knew Karen and Richard personally and professionally.
We've Only Just Begun: Carpenters Remembered has been met with great enthusiasm from Carpenters' fans and reviewers alike, who swear that Michelle sounds just like Karen Carpenter. Experience an intimate behind-the-scenes portrait of the pop music phenomenon that defined an era, and sing along with hits that include "Close to You", "Yesterday Once More", "Rainy Days & Mondays", and many more!
Performance Date / Time: Tuesday, January 7 – 7:30PM*
Ticket Prices: $57* $47* $37*
*All shows, dates, times and ticket prices are subject to change