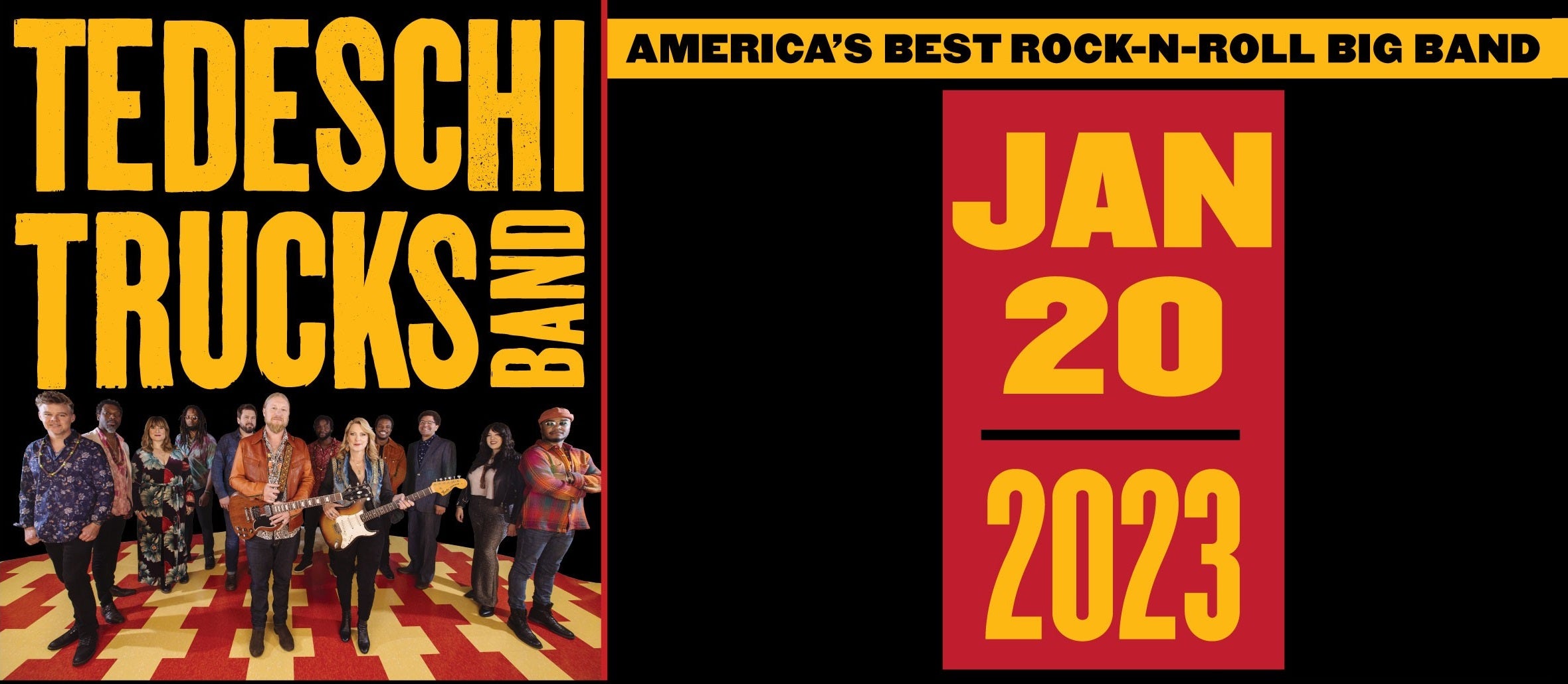 Oct

31

, 2022
TEDESCHI TRUCKS BAND
TEDESCHI TRUCKS BAND
RETURNS TO BARBARA B. MANN PERFORMING ARTS HALL AT FSW
JANUARY 20, 2023
TICKETS ON SALE FRIDAY, NOVEMBER 18
"Tedeschi Trucks at their finest and most adventurous." - NPR
"Stinging, dexterous, raga-blues brilliance." - MOJO
"I Am The Moon explodes with joyful, powerful and positive music." - Guitar Player
(Fort Myers, FL) – Tedeschi Trucks Band, the Grammy Award-winning 12-piece rock and soul powerhouse, returns to Fort Myers Friday, January 20, 2023 at 8PM. Tickets go on sale Friday, November 18 at 10AM and can be purchased online at www.bbmannpah.com or call (239) 481-4849 or in person at the Box Office. Led by the husband/wife duo of guitarist Derek Trucks and singer/guitarist Susan Tedeschi, "two of the best roots rock musicians of their generation" (NPR), TTB holds a well-deserved reputation as one of the best live acts touring today.
The band is currently touring behind their 2022 release, I Am The Moon, "a musical masterpiece" (Downbeat) that includes four studio albums, I.Crescent, II. Ascension, III. The Fall, IV. Farewell and four companion films delivering more than two hours of genre-defying original music that propel the treasured American ensemble into new and thrilling creative territory.
I Am The Moon joins an impressive studio discography that includes Signs (2019), Let Me Get By (2016), Made Up Mind (2013), and the Grammy-winning debut, Revelator (2011) in addition to their live releases, Layla Revisited (Live At LOCKN') featuring Trey Anastasio (2021), the Grammy-nominated film/audio, Live From The Fox Oakland (2017), and 2012's Everybody's Talkin'.
Tedeschi Trucks Band is Susan Tedeschi (guitar, vocals), Derek Trucks (guitar), Gabe Dixon (keyboards, vocals), Brandon Boone (bass), Tyler "Falcon" Greenwell (drums), Isaac Eady (drums), Mike Mattison (vocals), Mark Rivers (vocals), Alecia Chakour (vocals), Kebbi Williams (saxophone), Ephraim Owens (trumpet) and Elizabeth Lea (trombone).
-30-
Performance Date / Time: Friday, January 20, 2023 – 8PM*
Ticket Prices: $129.50*, $99.50*, $79.50*, $59.50*, $49.50*
*All shows, dates, times and ticket prices are subject to change. Prices do not include processing fee and sales tax.