Jan

7

, 2020
Nearly Nicks: THE QUEEN OF ROCK IN CONCERT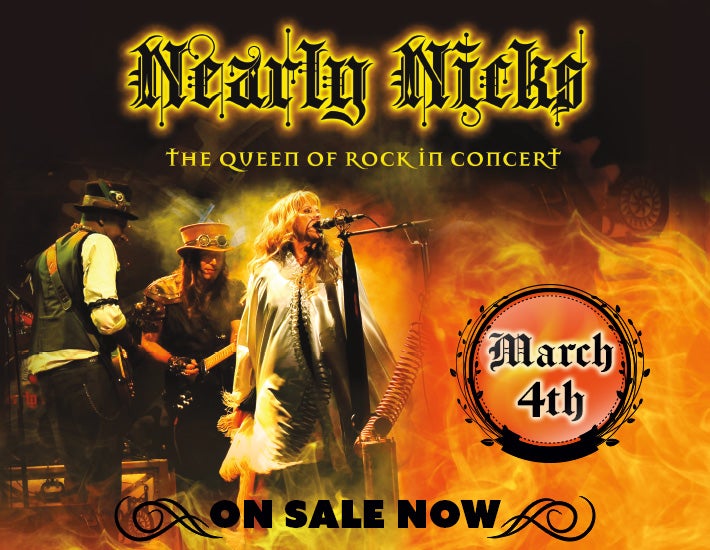 March 4
Tickets on Sale Now
"Close your eyes and just listen to hit after hit. Even with eyes wide open, Myers is a dead ringer for Nicks!" - Donna Maxwell, Journalist.
Nearly Nicks
Queen Of Rock In Concert
Nearly Nicks is back on the road, and going to be at the Barbara B. Mann Performing Arts Hall at FSW during a Florida wide tour of…Nearly Nicks: THE QUEEN OF ROCK IN CONCERT
Stevie Nicks and Christine McVie are reincarnated with this larger than life tribute to their ABSOLUTE best work. It's Rock Art Theatre at its finest with uncanny visuals and a live band, performing hits such as Edge of Seventeen, Rhiannon, Gold Dust Woman, and The Chain, also Including Stevie's collaborations such as Stop Draggin' with Tom Petty, Leather 'n Lace with Don Henley, and let's not forget.. Music into Gold with John Stewart. The show will take place on Wednesday, March 4th @ 7:30pm.
Tickets start at $44 and are available at the Venue box office, call 239-481-4849 or online at www.bbmannpah.com
Artist Information…
Many consider the Nearly Nicks tribute show the most accurate representation of Stevie Nicks in her prime. A truly exciting energetic show that has Stevie at her physical best. Stevie is known both for her song writing, stage theatrics, and ethereal mystical image. As an accomplished dancer, Julie C Myers has no problem portraying Stevie's on stage theatrics and image at the most energetic point of her career. A truly exciting and vibrant performance. Her bands are made up of professional top level musicians who, for the most part, make their living doing nothing else. This show is ON PAR with the top tribute acts in the world… and while Julie is at the top of her game, she is one of the most approachable, down to earth, and personable people you will meet. A wonderful combination… the total package… a true Super Star in her own right.
From extended contracts with a Southern California Casino to selling out seven nights in a row at a Boston Concert Hall, Julie has performed in venues small and large. Casino Show halls to places like the Carrolton Performing Arts Centre, to the Morton H Myerson Symphony Centre with full Symphonic Orchestral backing…. or as apart of a cast of Tribute Artists in the "Edwards Twins", "70's Show" at the Rode Island Stadium Theatre Performing Arts Centre.
A Personal Biography…
Julie's mother was a classmate of the real Elvis Presley and Music was big part of her family. Julie has studied several forms of dance including ballet, tap, jazz and interpretive and performed professionally for many years. A drama major in college, vocal training, and an accomplished Gymnast as well, Julie has always loved performing. It seems obvious that all of her training and entertainment experience has destined her to sing and dance across the stages of the world.
Julie has sung and danced in shows like "My Generation", "Melinda, First Lady of Magic", "Play Boys' Girls of Rock 'n Roll", and "Legends in Concert"… frequently touring all over the US and Canada. Her uncanny resemblance to the legendary "Stevie Nicks" added to her amazing physical and vocal ability has her doing the World's most accurate recreation of Stevie in the years of her prime. With her ethereal mystical image and poetic songs, Julie strongly feels Stevie Nicks' music is, and always will be, legendary. Songs like Rhiannon, Dreams, Sara and Gypsy will inspire decades of music lovers to come.
Soundtrack of Our Lives Productions (Producer) specializes in production and management of Touring Live "Rock Art Theatre" Theatrical Music Concerts. We pride ourselves in supporting our artists beyond expectations …with visually exciting Stage Sets, Light Shows, and other effects to augment their performances. We like to insure the audience is transported from the reality of day to day life to a fantasy land via a multi-media multi-sensory experience. Julie C Myers is profoundly talented in the audio and visual arts of song and dance and has a stage presence worthy of these extra efforts. We are so pleased to help fulfil one of her dreams and be part her productions.
For more information: nearlynicks.com and follow @nearlynicks on Facebook and Instagram.