Dec

11

, 2018
Moscow Ballet's Great Russian Nutcracker
Award-Winning Dancers on Dove of Peace Tour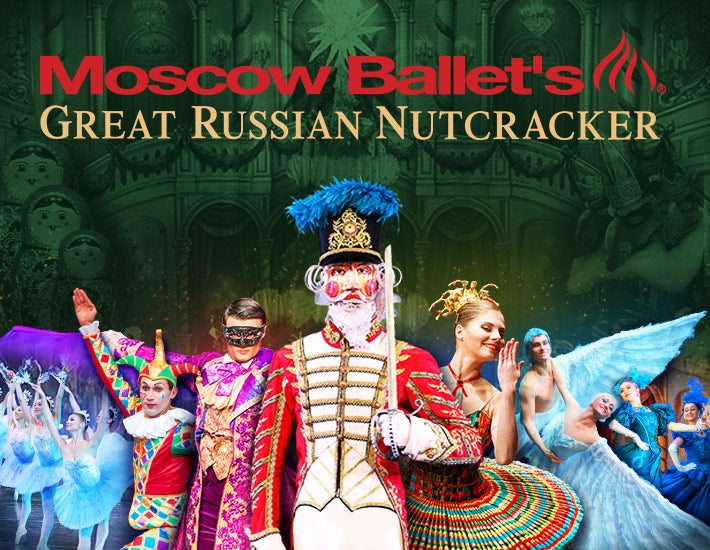 December 28
Performances at 3PM and 7PM
Announcing the Moscow Ballet superstar ballerinas and danseurs who bring their Nutcracker ballet with a Russian flair to life for audiences from coast to coast! Alexandra Elagina who graduated from the world-famous Kazan Ballet Academy and Kostyantyn Vinovoy who has won top prize at Serge Lifar International Ballet Competition. Moscow Ballet's Great Russian Nutcracker is in Fort Myers on Fri., Dec. 28 at the Barbara B. Mann Performing Arts Hall for just two performances this holiday season.
Alexandra Elagina performs as Masha (aka Clara) who transforms from a teen into a young woman due to Uncle Drosslemeyer's magical gift of the Nutcracker Prince, performed by Kostyantyn Vinovoy. This classic Christmas story is embellished by Moscow Ballet with Russian cultural icons such as life-sized Matryoshka/Nesting Dolls, a ride through the magical Snow Forest in a Troika Sleigh, to the Dove of Peace with a 20 ft wing span who welcomes the happy couple to Act II's Land of Peace and Harmony. All ages appreciate the antics of the 10-foot-tall Elephant, Bear, Bull and more puppets and the Palace Garden with 1000 Champagne Pink Roses. Get tickets at www.nutcracker.com/buy-tickets.
"Masha (Alexandra Elagina) finds world enough and time to raise one leg slowly behind her until it's the height of her shoulder. This slow ascent of one leg, while the music swells, seems brimful with feeling," Alastair Macaulay, Chief Dance Critic, NY Times
Principal Dancers – EAST TOUR
Chisato Yoshida premieres on Moscow Ballet's 2018 tour as heroine Masha in December performances. She is the recipient of the Silver Prize at the Youth America Grand Prix in Osaka and was invited to the Youth America Grand Prix Finals in New York. She has danced most of the well-known principal roles in ballets such as Odette in Swan Lake, Giselle in Giselle, Aurora in Sleeping Beauty and many more. Alexandra Elagina made her North American debut as Masha on the 2010 Moscow Ballet tour to critical acclaim, noted as "brimful with feeling," by Alastair MacCaulay, NYTimes Chief Dance Critic and "exuded the essence of delicacy," in Charleston Today. Alexandra hails from Kazan,and graduated from the world-famous Kazan Ballet Academy in 2006. She performs Masha during December. Kostyantyn Vinovoy, Honored Artist of Ukraine and top prize-winner at the Serge Lifar International Ballet Competition, is also Principal Danseur of the Kiev Municipal Academic Opera and Ballet Theatre. Vinovoy became the principal soloist immediately after graduating from the Kiev State Ballet School under Ballet Master Nobuhiro Terada.
Principal Iryna Borisova, recipient of Bronze from Ukraine's International Ballet Competition Named After "Serge Lifar" in Kiev and awarded as Finalist at the Varna International Ballet Competition in 2004, wows audiences all over the world. Partner Sergey Kliatchin, premiering with Moscow Ballet in 2018, is the 2017 Laureate Prix ​​Of Excellence winner from the Teatro Greco Festival in Italy and graduated from the Kyiv State Choreographic School and was immediately accepted at highly respected Donetsk National Academic Theater of Opera and Ballet.
Moscow Ballet – tours annually North America performing acclaimed ballets the Great Russian Nutcracker, Swan Lake, Sleeping Beauty, Romeo and Juliet, Cinderella and more. Known for presenting award-winning Ballerinas and Danseurs, from Lilia Sabitova in 1994 to Honored Artist of Russia Tatiana Predenia in 2002 to Andrey Batalov, former Principal Danseur with the Mariinsky Theatre in 2017, the company performs more than 100 engagements annually across Canada and the United States' in the finest performing arts venues. In addition to public performances, Moscow Ballet's North America tours include community engagement programs for all ages and interests. "Dance with Us" shares the Russian Vaganova ballet training with over 6000 American dance students annually bringing them on stage in ancillary roles to perform side-by-side with the professionals. Underwritten by Moscow Ballet, the program was developed by choreographer and co-producer Mary Giannone Talmi. "New Horizons – A Children's Program for Life" is a cultural immersion program benefitting thousands of children across the country annually and Musical Wunderkind has the Russian principal dancer performing with American youth musician accompaniment. Many Moscow Ballet performances have a fund-raising component for organizations such as hospitals, children's museums and more. www.moscowballet.com.
Talmi Entertainment - is the exclusive representation for Moscow Ballet's North American Tours which occur annually in more than 100 cities, from NYC to LA, and Miami to Calgary. Under Talmi Entertainment management Moscow Ballet delivers unparalleled Russian artistry in the classic story ballets Great Russian Nutcracker, Romeo and Juliet, Sleeping Beauty, Cinderella, Swan Lake and more. Talmi Entertainment was founded by Richard Rodgers and Leonard Bernstein Metropolitan Opera Guild Award award-winning composer, conductor and producer, Akiva Talmi. www.talmientertainment.com