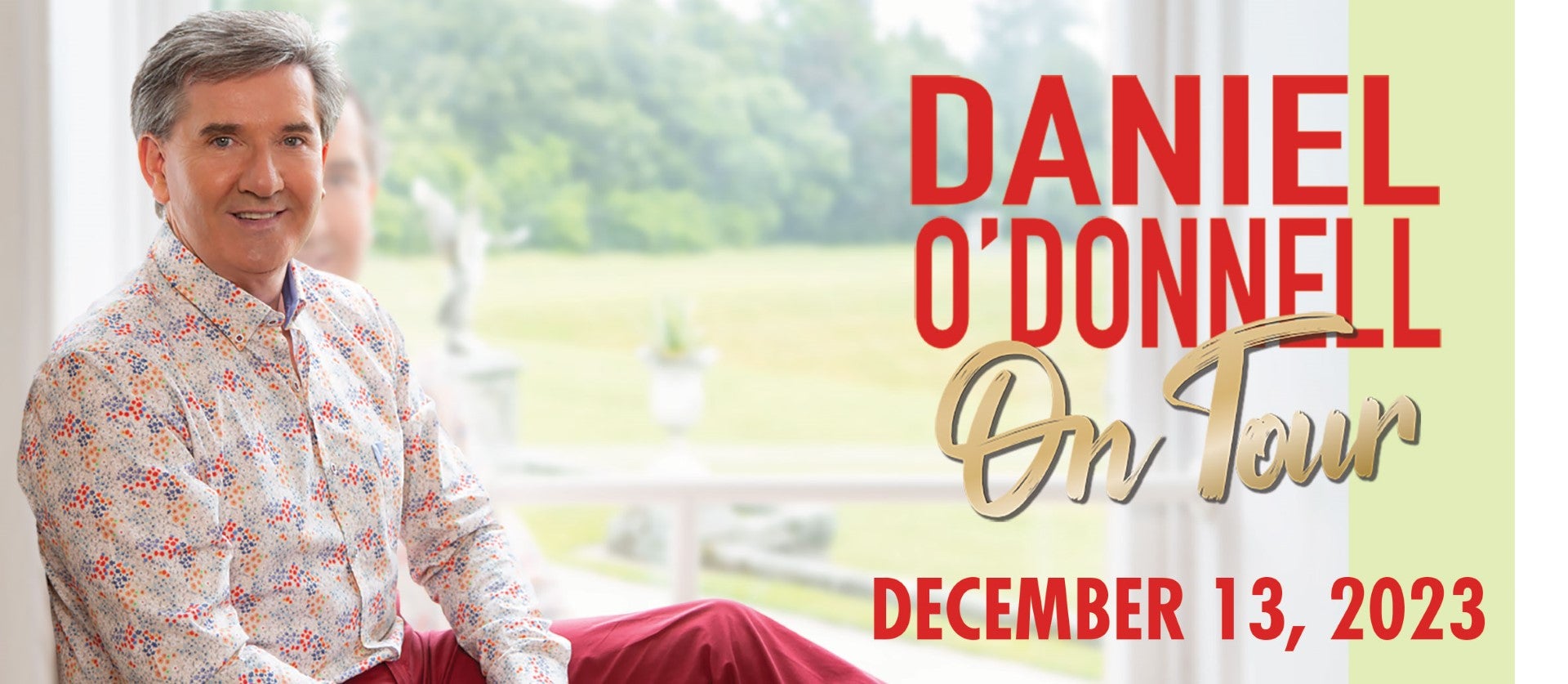 Daniel O'Donnell
On Tour
Daniel O'Donnell
On Tour
Daniel O'Donnell's remarkable career has moved on to a new level with his success as a TV presenter, just another facet to his ever-expanding list of entertainment achievements.
The Donegal based singer, who is one of the most prolific and successful recording artists in the UK charts, is the only artist in the world to score a hit in the UK album charts every year since 1988, an unprecedented and unbroken 35-year span, and in doing so, he has outshone everyone from Michael Jackson and Madonna, to U2 and the Rolling Stones.
Daniel's latest "I Wish You Well' released on 4 Nov '22, entered the official UK Album Charts at #16, a great achievement in itself In a very competitive week, especially when you take into account that the main chart is collated from CD, Vinyl and Digital/Streaming sales, but not only that, in the CD-only Chart, Daniel entered at #5, ahead of Taylor Swift and The Beatles !! and entered the Independent Albums chart at #2. Including this latest release, Daniel has now amassed 48 Top 75 albums, including 42 Top 40 albums, 30 Top 30 & 20 Top 10 albums, with 18 of the latter being this century, a feat that has not been achieved by any other recording artist, and has now sold well in excess of 15 million worldwide.
He has sold more than 4.6 million albums & videos / DVDs in the UK alone since the start of this millennium, and more than 6.6 million units since The Official Charts Company/Chart Information Network took over the running of the charts in 1994.
Daniel O'Donnell 60', released in celebration of his 60th birthday in 2021, shot straight into the chart at #4, keeping good company with the likes of The Beatles, Adele and Coldplay. As with the 'Daniel' album before it, this recording was produced by legendary record producer Nigel Wright, who co-produced the recordings of many of Andrew Lloyd Webber's musicals, including the film versions of Evita and The Phantom of the Opera, along with many artist albums and TV music shows.
Daniel has also achieved eight number one hits in the UK music video/DVD charts over the length of his career, makes regular appearances in the Billboard World Music Chart, received an honorary MBE from Queen Elizabeth, appeared on Top of the Pops, had his life celebrated on This Is Your Life, been given the Freedom of Donegal, has been inducted into Ireland's Music Hall of Fame, and received multiple Entertainer of the Year/Person of the Year Awards in Ireland and the UK - to mention but a few of the many accolades.